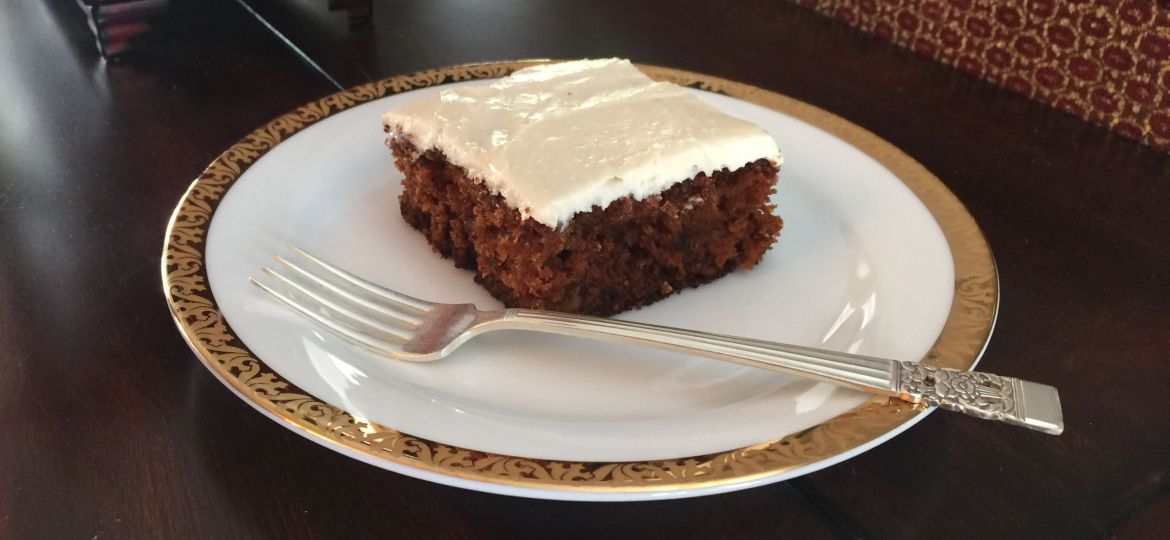 I was at my neighborhood grocery store walking through the bakery section and thought, "I'm craving a little dessert." Mind you, sweets are not my thing. I'm a cheese/cream/starch craver trying to reform my habits. I looked at all the choices and decided on a piece of carrot cake.
After I got home, I had a few bites and it was pretty good. I finished it a day or two later and as I was throwing away the plastic box it came in, turned it over to look at the label. I couldn't believe it! Not only were there dozens of ingredients, anything natural was held together by artificial additives, colors and flavors. Anyone know what glucono delta-lactone is? Me either! There were also antioxidants and preservatives – even though this was "fresh" from an in-store bakery.
Then I remembered how much I loved my Mom's carrot cake and was curious to compare how many ingredients she used. I dug through three recipe boxes to find it, and guess what? Glucono delta-lactone wasn't on the list!
For years I've been learning about what's really in the food we eat. The carrot cake is just one example. What I've discovered not only made me change what I eat, but it's made me a crusader. Do all of these chemical additives and artificial ingredients contribute to disease and long-term health issues? I believe they do. Now I try to avoid processed food as much as possible. I buy organic and cook every day!
Well, I not only found Mom's recipe, I made it. She would be so proud, as I rarely bake. Was it worth the extra effort? Yes, for three reasons: 1) as it baked, my house smelled like a warm hug at Grandma's house, 2) it was delicious, 3) I shared a piece with five friends who ate every bite. One even said, "you made my day." Now that's worth it!
In case you're wondering what was in the grocery store bakery's carrot cake, here are the ingredients:
Sugar, flour (bleached wheat flour, niacin, reduced iron, thiamine mononitrate, riboflavin, folic acid), soybean oil, eggs, carrots, water, raisins, pineapple, contains 2% or less of whey, cinnamon, leavening (sodium bicarbonate, sodium acid pyrophosphate, monocalcium phosphate), salt, ground ginger, modified corn starch, egg whites, molasses powder (molasses, wheat starch), ground allspice, nutmeg, caramel color, potassium sorbate (preservative), sorbitan monostearate, sodium stearoyl lactylate, sorbic acid, xanthan gum, polysorbate 60, artificial flavor, carboxymethylcellulose, monoglycerides, phosphoric acid and sodium propionate (preservatives), red 40, sugar, cream cheese (pasteurized milk and cream, cheese cultures, salt), stabilizers (carob bean gum and/or xanthan gum and/or guar gum), margarine (palm oil, soybean oil, water salt, whey, mono and diglycerides, sodium benzoate, beta carotene, artificial flavor, vitamin A palmitate added), vegetable oil (palm, soybean, mono and diglycerides, polysorbate 60), maltodextrin, corn starch, water, natural and artificial flavor (milk, soy), food starch-modified, salt, soy oil, glucono delta-lactone, benzoic acid, propyl gallate (antioxidant), artificial color, sugar, vegetable oil (palm, soybean, mono and diglycerides, polysorbate 60), corn starch, natural and artificial flavor, salt, polysorbate 60, guar gum, water, cream, salt, butter, artificial color (may contain the following: blue 1, blue 2, red 3, red 40, yellow 5 or 6, yellow 5 or 6 lake), sodium benzoate, potassium sorbate, citric acid.
Here are the ingredients in Mom's:
Flour, sugar, cinnamon, baking powder, baking soda, salt, vegetable oil, eggs, carrots, nuts. Frosting: powdered sugar, butter, cream cheese – and love!