Peanut Noodles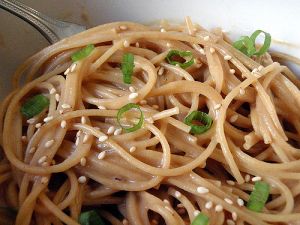 A really easy recipe that tastes equally good served hot, warm, or cold. Good for a packed lunch. Fettuccini or spaghetti, both work great!
8 ounces spaghetti
1 bunch green onions (thin sliced)
2 tablespoons sesame oil
1 teaspoon ginger root (minced fresh )
1/3 cup peanut butter
1/4 cup soy sauce
1/4 cup hot water
1 tablespoon cider vinegar
1 teaspoon white sugar
1/4 teaspoon crushed red pepper flakes
1 teaspoon sesame seeds
Cook pasta in a large pot of boiling water until done. Drain.
Meanwhile, combine oil and green onions in a small skillet.
Saute over low heat until tender.
Add ginger; cook and stir for 1 to 2 minutes.
Mix in peanut butter, soy sauce, water, vinegar, sugar, and red pepper flakes.
Remove from heat.
Toss noodles with sauce, sprinkle with sesame seeds and serve.
Nutrition at a glance:
Amount per serving
Calories 571
Protein 20g
Total Fat 25g
Sodium 1309mg
Carbohydrates 70g
Fiber 6g