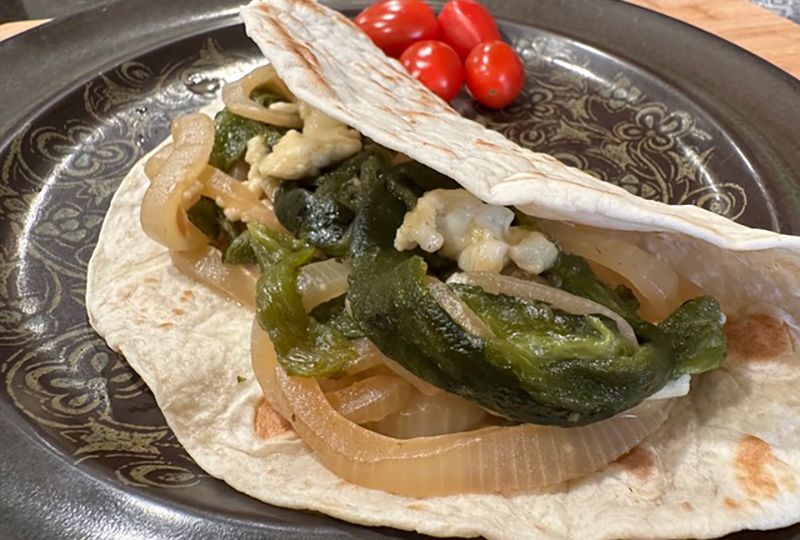 Poblano Vegetarian Bomb Tacos
There are only FOUR ingredients in these delicious tacos - and did I mention they're DELICIOUS?! Years ago, a lady from southern Mexico named Araceli was my Mom's caregiver. She made these for us several times. I loved them so much that I had to try and duplicate her "recipe" (but without using corn oil). Like all recipes that are so good they've been handed down from one generation to the next, many have never been written down. You just know how to make them because you watched or helped your family members in la cocina over and over again. I've made these a bunch and always want more. Thanks Araceli! I hope you like my version 🙂
Groover Linda
Ingredients
2

lbs.

Fresh Poblano Peppers

about nine. They are mild without the seeds, but once in a while you may get a little spicy one.

2

large white or brown Onions

2 10

oz.

packages of Queso Fresco cheese

I use Cacique brand or substitute a plant-based cheese you prefer in the amount you prefer – or eliminate the cheese and use sliced avocados as a topping (not cooked!)

6-8

Flour Tortillas

freshly made if you can find them in a Mexican market near you

Sliced Avocado

optional
Instructions
Outdoors
Prepare and heat the grill, then place the poblanos on the rack over a medium flame.

Turn each pepper every couple of minutes until the skin is brown and charred, almost paper-like and beginning to peel.

Use the grill's cover to hold in the heat between turns.
Indoors
You can also grill the peppers indoors using a gas stove, just be sure to turn on the fan to ventilate, as they will smoke a bit.

Place them directly on the burner over a low flame or use a grill pan.

Continue to turn them every couple of minutes until the skin is brown and charred, almost paper-like and beginning to peel.
Let them Steam
As soon as the peppers are done, immediately place them in a glass bowl and cover the bowl with foil to let them steam, making them much easier to peel, 10-15 minutes, or until cool enough to handle.

Caramelize the Onions: Meanwhile, slice the onions, separate into rings, and add them to a frying pan with a couple of tablespoons of water and cook over medium low heat until they caramelize.

Keep adding a bit of water so they don't dry out and burn.

By not using any oil, we can eliminate lots of extra calories! When golden brown and soft, remove from heat.
Peeling and Seeding the Peppers
First, peel off the charred skin of each pepper (don't rub your eyes in case you get a spicy one!) and discard.

Next, cut the stem end of the peppers off and discard.

Slice each pepper down the center the long way, open the pepper and use your knife to scrape off all the seeds inside.

When finished, cut the peppers into julienne strips.

Now add the poblano strips to the caramelized onions in the frying pan.

Stir together and reheat while crumbling chunks of the Queso Fresco cheese into the mix (do not over stir, leave the cheese in bite-size pieces).

When the cheese has melted, the dish is done.

Heat tortillas in a separate frying pan until warm and a little toasty.

Spoon the poblano mixture onto a tortilla (with a little salt if desired, but not necessary), then fold in half for a taco or roll it up burrito style.

Add sliced avocado on the side or in the taco/burrito to take them over the top!
Nutrition
Calories:
204
kcal
Carbohydrates:
18
g
Protein:
10
g
Fat:
11
g
Saturated Fat:
6
g
Polyunsaturated Fat:
1
g
Monounsaturated Fat:
3
g
Trans Fat:
0.3
g
Cholesterol:
26
mg
Sodium:
435
mg
Potassium:
286
mg
Fiber:
3
g
Sugar:
5
g
Vitamin A:
678
IU
Vitamin C:
83
mg
Calcium:
259
mg
Iron:
1
mg